Maritime Sanitation carries a complete line of accessories, system enhancing equipment and replacement parts. This includes non-proprietary membranes that are commercially available around the world. Competing brands often use more expensive membranes available only at select locations.
Whether you're performing routine maintenance or upgrading your Reverse Osmosis system, FCI Watermakers at Maritime Sanitation is your global water source.

Additonal Remote Displays
Additional displays enable you to program and access the system from a remote location. See the benefits of UROC Technology.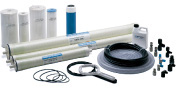 Replacement Parts
FCI carries a complete line of replacement parts: membranes, filters, hoses, fittings, spanners, o-rings and more.

Multi-Media/Iron Removal Filters
Removes particulate or iron from the feed water stream. Filter includes valve tree assembly and stainless steel differential gauges.

Granular-Activated Charcoal Filters
Great for post-tank filtration, and the removal of particulate, chlorine and other contaminants found in your fresh water holding tank.

Ultra-Violet Sterilizers
FCI stainless steel units provide 99.8% sterilization of bacteria and micro-organisms in water. Available in a variety of flow rates.
For more information on these products and others that we carry please contact us today at 281.334.5978!