RARITAN PRODUCTS

For more then 50 years, Raritan has been meeting customers needs for outstanding service and product reliability. Raritan manufactures equipment for pleasure boats throughout the world. Products include marine toilets, waste treatment systems, icemakers and water heaters.
Committed to the environment and preserving sea life, Raritan designs products to help maintain an environmental balance and ensure the quality of marine waters.
For more information about Raritan's products and specifications. Please download the PDF catalog or contact us at [email protected] if you have any questions.
Products:
Marine Toilets
requires treatment or holding of the waste. A complete list of Federal No Discharge Zones can be found on the EPA web site.
Power Consumption – When choosing a marine toilet, remember to look at overall power consumption. Many manufacturers make claims that their units draw very low amps. A low amp draw for a long period of time means overall consumption may be higher than a unit that draws more amps.
Water Use - Very low water use normally equates to poor performance when removing anything other than liquid from the bowl. The easier it is for people to use your marine toilet means the less trouble you will have with it.
Water Heaters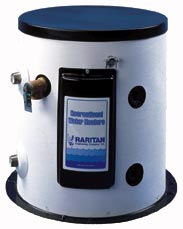 World-renowned water heater specially designed for the marine environment. Provides the comfort and convenience of reliable hot water.
Benefits
The tank is covered by a five-year Limited Warranty.
Ignition-protected thermostat.
Attractive polymer jacket resists corrosion from dampness.
Glass-lined steel tank is more durable than stainless steel.
Options
Available in 6, 12 and 20 gallon models with or without engine heat exchangers.
Available for 120V AC or 240V AC.
Raritan 1700 Series Water Heater